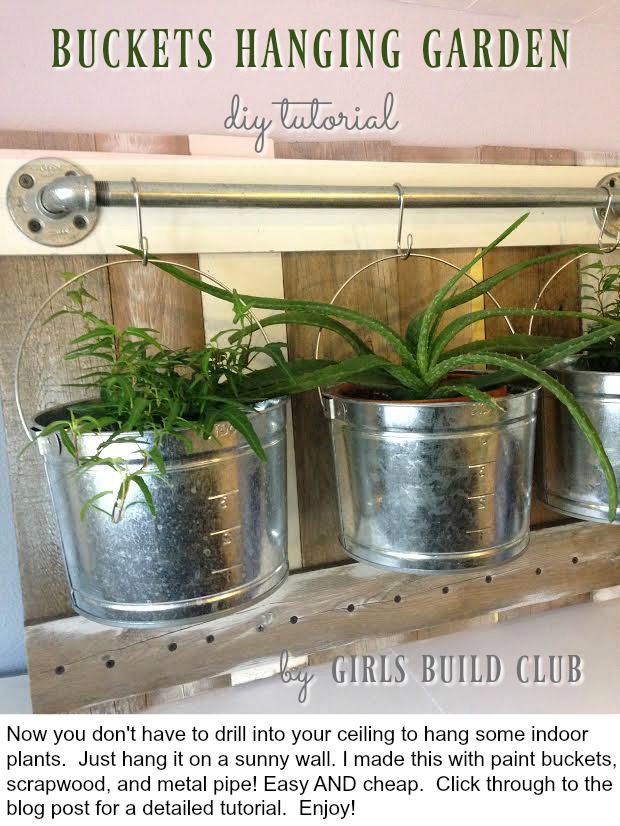 I love this diy tutorial because you can use it to clear up counter space in lots of different rooms and ways. Who couldn't use additional space on their counter, window sill, or shelving?
This versatile wall system will
Get the plants off the counter or window sill
Get the kitchen utensils off the counter
Get the bathroom toiletries or toilet paper off the shelving and onto the wall.
Get the arts and crafts supplies off the craft table
Get pet supplies and treats out of the way.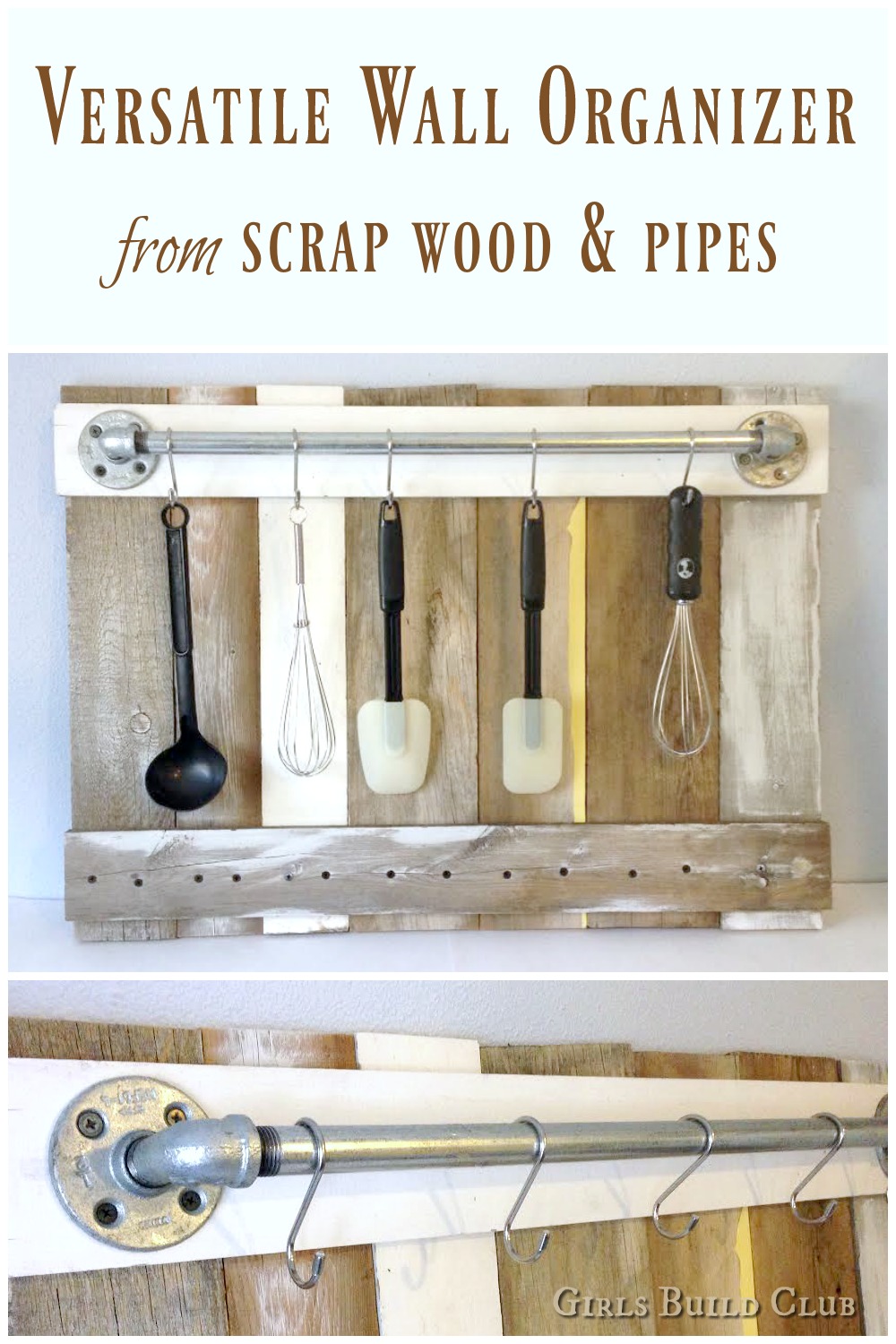 At our house, there's little cupboard space, and virtually no counter space.  But what we do have, is some unused wall space (= inefficiently used wall space).
So I knew I had two options – 1. Get rid of some stuff, freeing up space in the cupboards so I can move the counter clutter into the cupboards.  2. Build a wall organizer in order to move the counter clutter to the wall.  Now if it was just up to me, I'd probably be living off a set of dinnerware for 4 people.  But since my husband is involved, and he hoards coffee mugs like Spanish treasure, it means our collection of plates and mugs isn't going anywhere. So I'll be going with option #2 and try to move some things from the counter to the wall.
Plan Your Project
Evaluate your cluttered areas.
Which room in your house drives you nuts?
Which area could really use some de-cluttering?
What spot do you want to get stuff out of the way so you can work or move around more efficiently?
Look at the unused wall space you have available.
How big is the wall area?
Is it in a convenient place to access?
I chose the space above the stove for my wall organizer.  Getting the jar of kitchen utensils off the counter and onto the wall is one small win in the fight for counter space.
After measuring the wall space, I decided to make my utensil rack about 31.5 inches wide by 22 inches tall. But keep in mind, if you're really using scrap wood, like I did, then your dimensions may change a little depending on the width of your boards.  That's okay! Just make sure it's going to fit nicely in the space you have chosen.
Decide which items you want to put on your wall organizer rack.
Is this a rack for items that you rarely need? or that you often need?
Think about the items you want on the wall organizer, will they all fit nicely? or do you need to re-evaluate the size of your wall organizer?
Okay, enough thinking and talking, let's get to it…
Project Overview
Time: Less than 2 hours.
Difficulty: Easy!
Dimensions of finished piece:  31.5 inches wide x 22 inches tall
Supplies
Interior wood screws. I used 1 1/4 inch screws for attached the wood together, and 3 1/2 inchers for hanging the organizer on the wall.
Screws for metal pipe floor flanges. I used a random assortment of leftovers in my shed. 🙂  Since this has a distressed look I didn't care what the screws looked like.  They just have to have big enough heads to hold the metal flanges.
Measuring tape
Square. Like this.
Two of 1/2 inch galvanized pipe floor flanges, female.  Like this.
Two of 1/2 inch galvanized pipe 90 degree elbows, male to female. Like this.
One 1/2″ x 24 inch galvanized pipe nipple.  Like this.
S Hooks.
Optional: Wood putty to fill in holes after screwing in screws.
Optional: Wire baskets, like this one from Hobby Lobby.
Optional: Galvanized buckets.
Optional: Paint for distressing your scrap wood
Tools
Miter Saw (This is what I have, but since you only need to make straight cuts, even a hand saw or circular saw will do just fine.)
Drill
Lumber List
3 – 1×4 – 8 feet long boards. Like this.  They are called 1×4's but in actuality, their size is 3/4″ thick and 3 1/2″ wide.  Confusing, right?
I used scrap wood, so my boards were a mixture of 1×4's and 1×5's.  I like the way the variety of sizes added to the distressed/rustic style.
You could also use pallet wood! (Make sure it's free of dangerous chemicals) Some hardware stores will sell their used pallets for $2 or $3 each.
Cut List
9 – 1×4 @ 22″ for the vertical boards
2 – 1×4 @ 31.5″ for the horizontal boards
Wall Organizer Instruction Steps
Gather your supplies so you don't have to go looking around for where you put it last.
Use common sense and follow ALL safety instructions and recommendations associated with your tools and supplies.
Cut your boards to size. (or get them cut at your hardware store when you purchase them)
Clean the wood with soap and water.  I did this because I was using old scrap wood, but you might skip this step if you just bought new lumber. I used a bucket, a rag, and soap and water.  Let it dry.
Paint some boards if you want to, or if you have some old painted boards, try sanding them a bit for a distressed look.
Lay out your cut boards on a flat surface and arrange them in an order you like. Since I used scrap wood, I played around with balancing the painted boards with aged gray boards.
Use a square to make sure the corners of your wall rack are a perfect 90 degrees so you don't end up with a wonky shaped rectangle in the end!
Now that everything is straight, start screwing your horizontal boards on, one at a time with your 1 1/4 wood screws. Screw one screw and check for square again.
Screw two screws into the bottom horizontal board for every vertical board.
Then start screwing the top horizontal board, two screws for every vertical board. So once both horizontal boards are attached, every vertical board will have 4 screws in it, two from the bottom board, and two from the top board. Make sense?
Okay, now you should have all the boards assembled! You're almost done.
If you want, too, fill in the screw holes with wood putty. Let dry and then paint over them if necessary.
Assemble the pipe elbows to the pipe nipple. Don't twist it very tight, just yet!
Connect the floor flanges to the pipe elbows.
Lay it out on the wooden backboard and adjust until the floor flanges can lay perfectly flat on your board.  Also, adjust the floor flanges so that the screw holes will be easily accessed and not hidden behind the pipe bar.  It will be hard to screw your screws in if the holes are behind the pipe bar.
Center the pipe assembly side to side, and top to bottom.
Screw one screw in!
Look at the pipes again and adjust it to make sure it's all still centered.
Screw one screw in on the other floor flange.
Now the pipe assembly won't move much and you can screw the rest of the remaining screws in.
You're pretty much done, now. Add your S hooks, hang some kitchen utensils, baskets, or hanging plants.
Step back and admire.
Oops, you're not really done. Now you have to hang the darn thing on the wall. Do this part with another person, because this sucker is heavy.  Okay, now you're done.
Enjoy your newly clutter-free space.
Variations of the Wall Organizer
The simplicity of this design lends itself to a ton of possibilities.  Add some S hooks and you can connect anything to it and use it any room of the house.  It could be used to organize toilet paper or toiletries in a beachy coastal theme bathroom.  In the photo below I left the bucket labels on. They have a very vintage or retro feel to them, don't you think?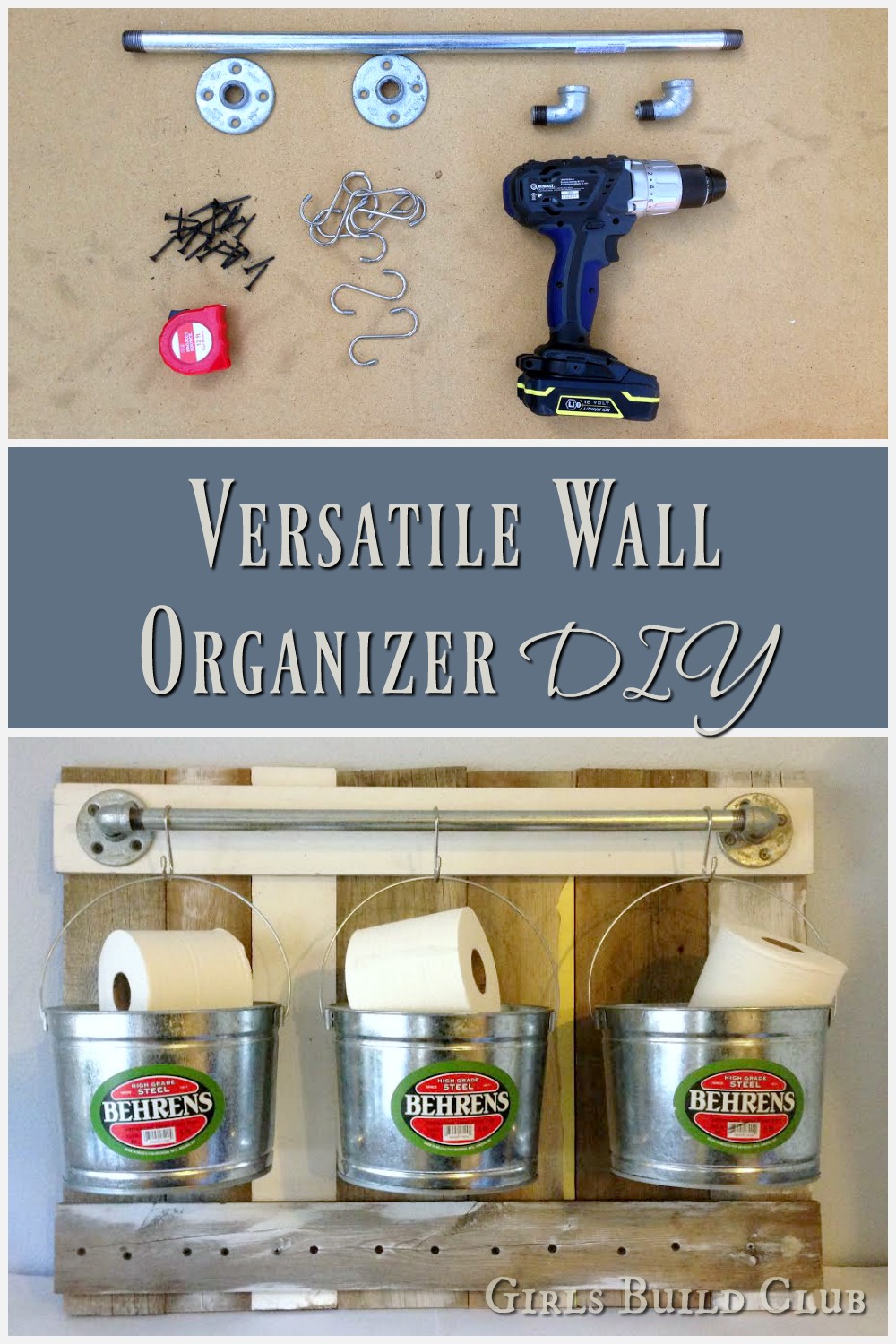 Or like I did, as a rustic farmhouse kitchen utensil holder. Use the hooks as they are or add some rustic wire baskets to hold some spices or sauces.
Another variation is to use the hooks to hang some galvanized buckets with plants for a country farmhouse look.
I'm sure there are other ideas out there.  What did you come up with? I'd love to see your take on it, so post some pictures in the comments!
P.S. There are a lot of links in this post, and none of them are affiliate links.  They are just there to show you want I'm talking about.